SUMMER ESSENTIALS FOR YOUR CLOTHES
Whether you need a mid-holiday wash, or to remove any creases on-the-go - our holiday essentials have you covered.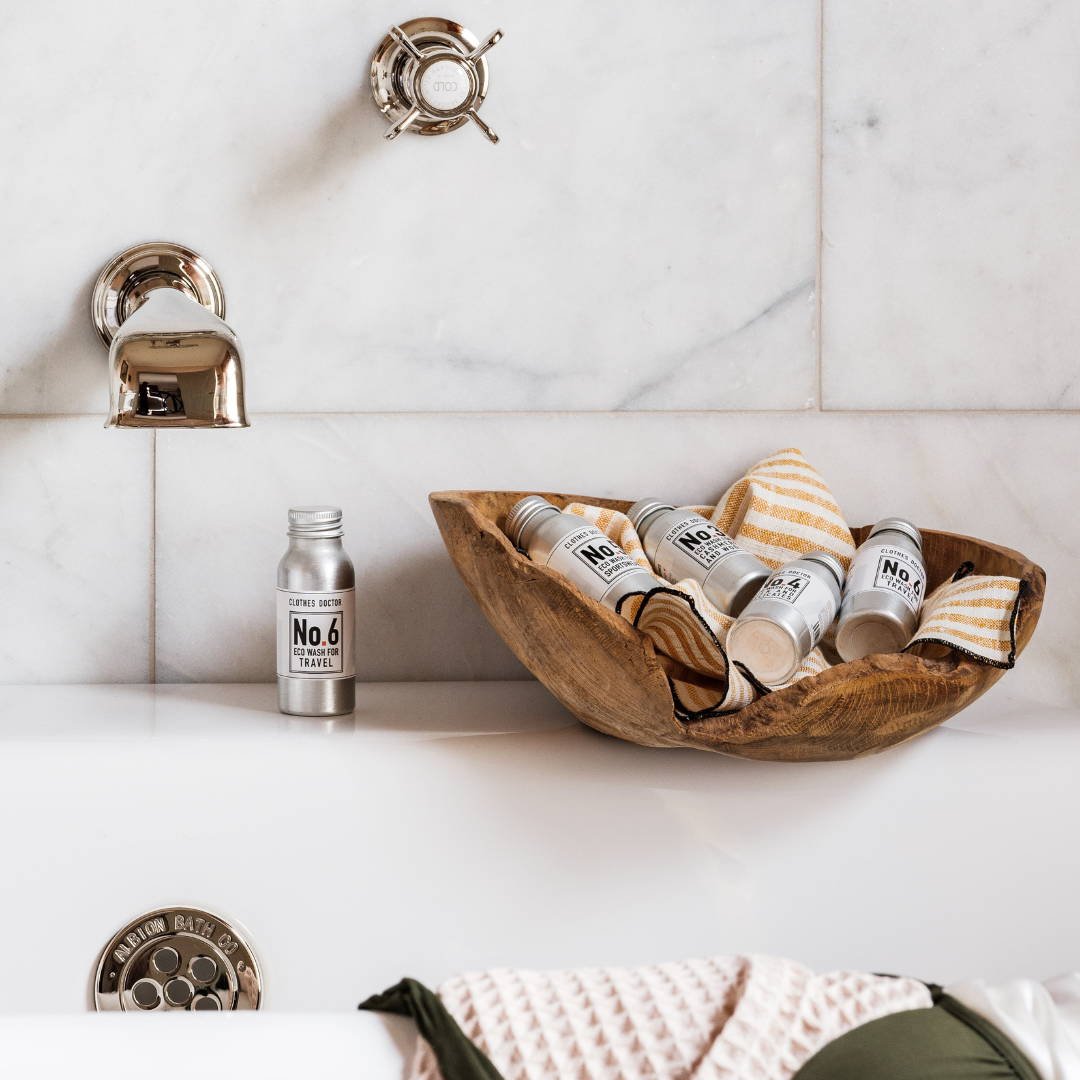 Our travel wash is perfect for any mid-week holiday washes, whether you need a quick hand wash or full machine load.
Leak free

Powdered format, getting you straight through security




Refreshingly scented

Miniature travel size




Infinitely recyclable bottle



Made in Britain
Like dry shampoo for your clothes, spritz this directly onto your fabric for an instant refresh - and avoid washing your clothes while away.
Refreshing White Tea and Mint Scent
Removes odours

Anti-bacterial qualities

Removes impurities




Made in Britain



Release the creases and refresh your wardrobe with our Steamer Water. Spray directly onto your fabric to smooth out the wrinkles, and scent your clothes like freshly washed laundry - no washing or ironing necessary!
Blue Lily and Bergamot Scent

Remove fabric creases & refresh

Can be sprayed directly onto fabric, or added to steamer and iron

Infinitely Recyclable bottle

Made in Britain



Keep your clothes smelling fresh with our natural moth repellent scent bags. Not only will they protect your holiday frocks, but keep your suitcase and wardrobe beautifully scented.
Available in three scents



Small enough to be taken with hand luggage

Natural moth defence

Made in Britain



"Using this Clothing Spritz freshens my clothes really well, saving on unnecessary extra washes. It has a really lovely fragrance. Clothes Doctor products have enabled me to readdress my old laundry habits for the better."
"The smell is really gorgeous and the aroma lingers on clothes when they're dry which is lovely. You don't need to use a lot for clothes to come out clean and lovely. This is a great little travel set! I love it!"
Georgia | Eco Wash for Travel
I love using it in my clothes steamer to make my clothes smell nice. It also helps to de-crease my clothes quicker than if I were not using it and it cleans my clothes at the same time, such a useful product.
Mary | Steamer Water
STEP ONE
Separate your clothes by fabric type and wash each fabric type with the appropriate detergent. For your everyday clothes, use our Eco Travel Wash.
STEP TWO
Fill a basin with lukewarm water and add a couple of capfuls of your detergent. Agitate the water to let the product and water mingle.
STEP THREE
Submerge your garments in the basin, and gently agitate. Leave for 15 minutes. Run cold water over the clothes to help remove any leftover residue.
STEP FOUR
Remove excess water by rolling your clothes in a dry towel. Then leave them to air dry out of direct sunlight. (Tip! If white, then leave them in the direct sunlight for brightening).