THE AVERAGE ITEM OF CLOTHING HAS ONLY TWO YEARS UNTIL IT IS THROWN AWAY. THAT'S WHY WE STARTED CLOTHES DOCTOR.
TO BRING BACK THE TRADITION OF CARING FOR THE CLOTHES WE LOVE, AND MAKING THEM LAST FOR AS LONG AS POSSIBLE.
For over a decade, I was working tirelessly in the City in the retail sector. I started to take a good hard look at my own unsustainable shopping. After learning how much of our clothes go to waste, I became interested in building a business that would actually encourage people to change their consumption habits and extend the life of their clothes.
Many clothes are thrown away simply because we're tired of them. Or because they've lost their shape, colour or the appearance they once had. In many cases this is caused by being washed too often or the wrong way, or without the right tools and knowledge.
So in 2017, I left my City job and started Clothes Doctor. People from across the country sent in their most beloved items for altering and repairing. Our repairs service continues today, alongside our range of specialist clothing care products.
After five incredible years, we've created an amazing, loyal community dedicated to cleaning, protecting, and repairing clothes the way our grandparents did - extending the life of the clothes we love, so we throw less away. I'm so proud of how far we've come and excited for what's to come!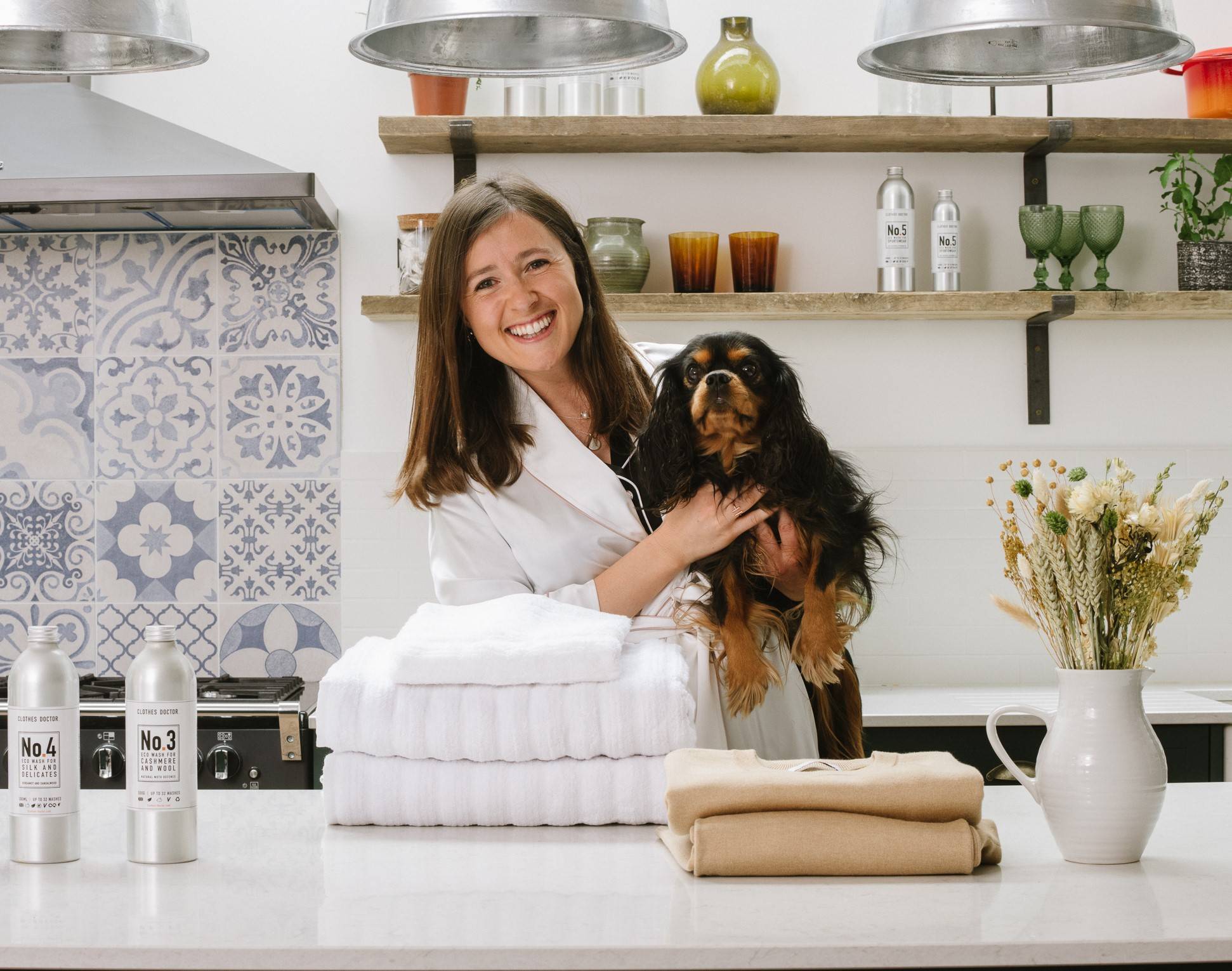 WHAT IS OUR PURPOSE?
We believe that every new garment should be a friend for life, not a one hit wonder; so we're here to bring back the pleasure of giving new life to your clothes.
By extending the life of your clothes by 9 months, you can reduce their carbon, water, and landfill footprint by up to 30%.

With our fabulous team of seamstresses, our eco friendly detergents, and plastic free clothing care products, we give you the tools you need to join the slow fashion revolution.
NATURAL INGREDIENTS
We take a stand against artificial fragrancing and instead let the beauty of the ingredients talk for themselves. Our magnificent fragrances use only essential oils, seep into your clothes and drift through your homes.
REDUCING CLOTHES WASTE
The average item of clothing has only two years until it is thrown away.
We specialise in clothing care products and services that extend the life of our precious clothes. Whether that is our specialist detergents that protect fabric fibres, or our sprays which reduce the number of washes your clothes go through - each Clothes Doctor product exists for a reason.
MADE IN BRITAIN
The Clothes Doctor workshop is based in rural Cornwall - all of our products live and are shipped from there. Wherever possible, our products are made in the UK.
INFINITELY RECYCLABLE
One of the easiest ways to reduce the amount of plastic at home is to stop using big plastic containers of liquid laundry detergent. That's why all Clothes Doctor products are packaged in 100% aluminium with a compostable label. Making them infinitely recyclable.
From wool, to silk, to yoga gear - we have a detergent that is expertly designed to take care of your beloved garments.
Here are five things you should know about our range:
1. Individually and specifically designed to enhance the quality of the targeted clothing fabric
2. Uniquely and delicately scented
3. Natural & plant derived ingredients
4. Infinitely recyclable packaging
5. Cruelty free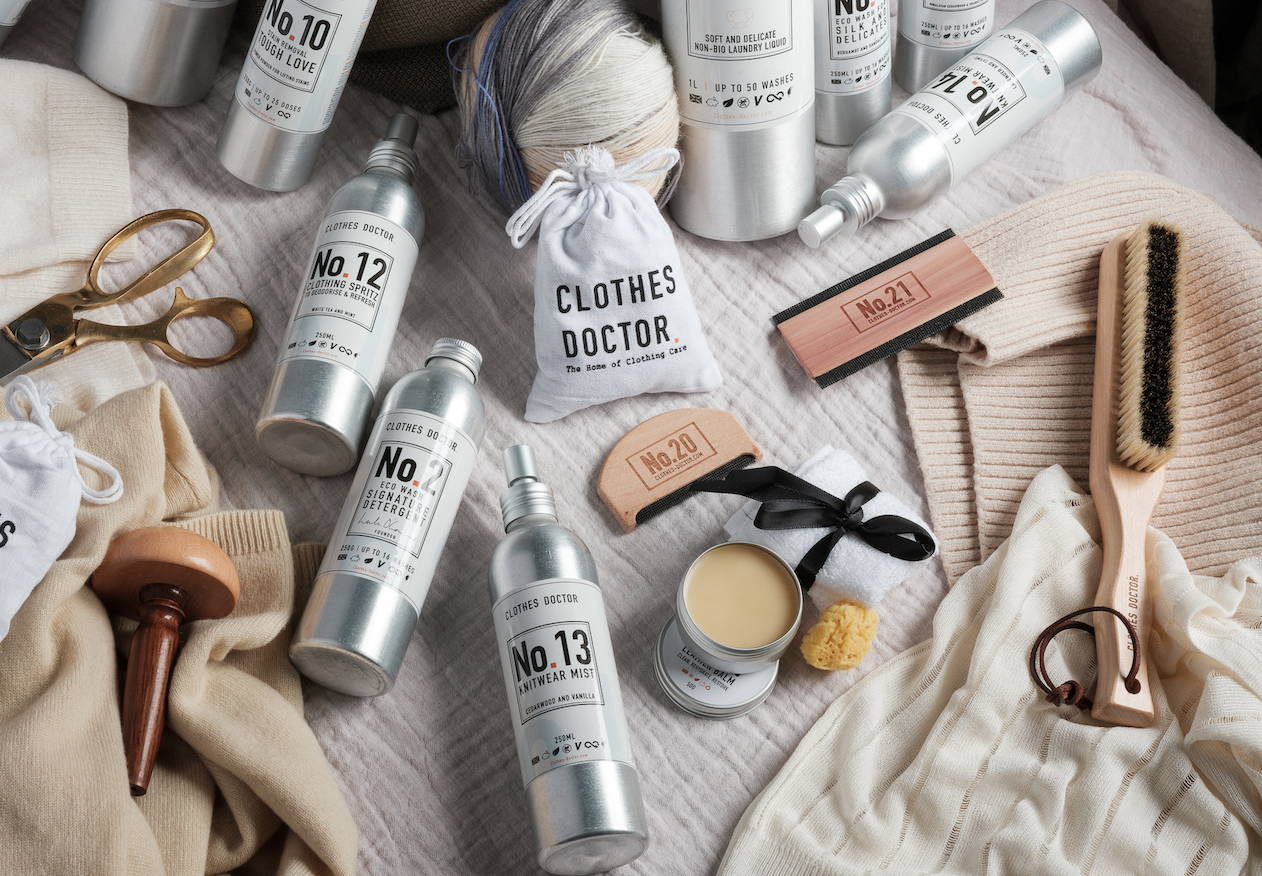 For those times when your favourite jumper gets a hole in it, or your new trousers are a touch too long, our team of expert seamstresses are there to help.
In just
three simple steps,
your wardrobe favourites can be repaired, altered and restored:
1. Request a quote through our website
2. Send your items to our workshop
3. You'll receive your items back to your home within 7-10 days
You can purchase Clothes Doctor products online from anywhere in the world.
If you would like to find our products in person, some of the stores you can visit includes Harrods, NPeal, and Katrina Philips.
If you would like to order online, our website is always here, or you can shop on many sites including Revolve, Ocado, or Good Eco.